Morocco holds a special place in the heart of Sailaway: on the edge of Africa it offers a unique combination of desert landscapes, iconic architecture and artisan shopping with plenty world famous surf breaks to boot. We got in touch with Meg Gisborne, a Bristol based photographer with a distinctive style of fashion photography, just before she set off to explore this glorious country for two weeks. Whilst on her travels, Meg teamed up with another inspirational one-of-a-kind, Kenza, a Moroccan native travelling the world as an event manager and they documented their adventure through the Riads of Marrakech, rocking their personal favourite dress from our new Special Edition collection. Read on to discover more about these glorious women and a sneak peak at the shoot...
Tell us a little more about you. Where are you based and what do you do?
I'm a freelance photographer and part-time nanny based in Bristol, UK.
How did you get into photography?
I got my first DSLR camera when I was fourteen and this was when I realised I loved taking photographs. I grew up in a small village so I would always take my camera with me on walks and I would often invite my friends over for 'fashion shoots'! I studied photography at A-Level, and then went on to University at Brighton and to the London College of Communication. I didn't enjoy the structure of university and decided it wasn't for me. I learn by doing, so I spent the year getting as much experience as I could in London and then moved to Bristol in 2016. This was the best decision I have ever made, as Bristol is an amazing place for creatives!
Can you describe a typical day?
A typical day always starts with coffee! I usually get up early and go to the gym. If I have a shoot scheduled I'll gather the team over at mine for hair and make up, and then we shoot in various locations across Bristol. If not, I spend my day editing and planning shoots. I work from home which can be quite lonely sometimes, so I enjoy setting up camp at a near by coffee shop.
Which location did you choose for the shoot and why?
This shoot took place in Marrakech. I was staying at the Riad Capaldi which is incredibly authentic and ideal for what I had envisioned. We mostly shot inside the Riad, but ventured outside as I wanted to capture the piercing blue dress against the gorgeous red dusty walls.
Which is your favourite photo from the shoot?
My favourite photograph is probably the one of Kenza leaning against the wall of the narrow windy street. I really wanted to highlight how beautiful the low cut of the dress looks from behind and Kenza has the most amazing hair so this worked really well.
Do you have a favourite dress from the collection?
This dress is my favourite! I tried it on and fell in love instantly.
What does being part of the Sailaway Crew mean to you?
It's been really fun to have the opportunity to work with the Sailaway crew. The girls are all lovely and super talented. I love the ethos of the brand and of course the dresses are incredibly dreamy to look at and wear.
Where's your favourite place to travel to and why?
Aside from Morocco, one of my favourite places would have to be Bali. I just love everything about it. I'm currently learning to surf and would like to get good enough to ride the waves over there.
Where is next on your wanderlust wish list?
Oooh there are too many places to choose from. I would love to go to to Sri Lanka or Hawaii one day.
Words to live by?
Life is so precious, live it well!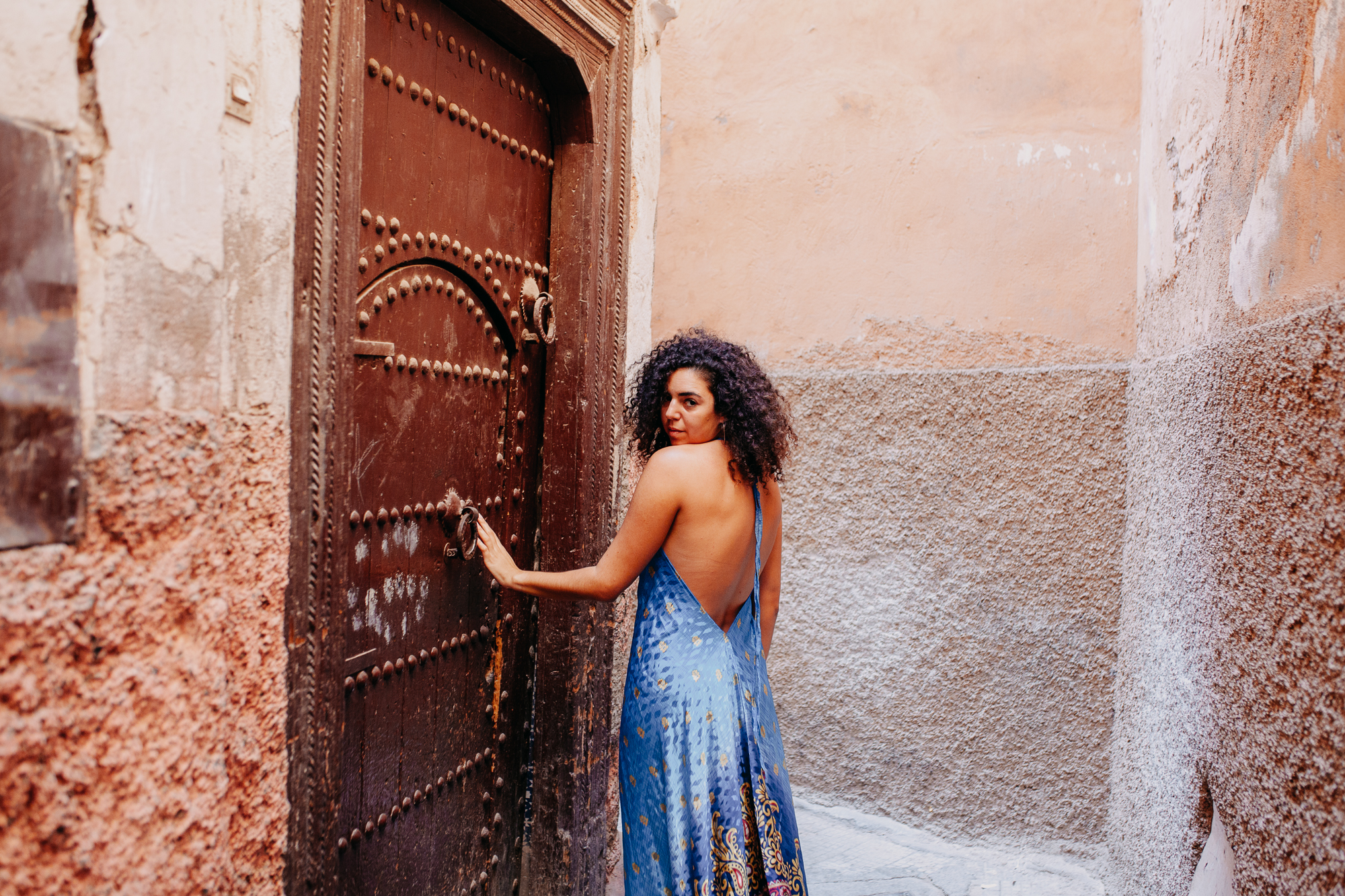 Please tell us a little about you. Where are you based and what do you do?
I'm currently based in Morocco for the next 4 months working on an event which I'm very excited about! I'm an event manager and digital nomad who's been on the road for 11 years now, moving from one country to the other.
How did you get onto the path that you're on?
As a child, I grew up with the love of languages and foreign lands. I've always wanted to travel, and whist studying at university in Spain, I started working in events and realised soon enough that it was the kind of job I could do anywhere in the world. I then had the chance to work in amazing locations with very talented people from whom I've learned a lot. From working at the Olympic Games to organising a party for U2, it's definitely been an exciting journey!
Can you describe a typical day?
My typical day? I don't think that exists! I tend to take my days one at a time at the moment depending on the demands of the day. I love going for a walk at the beach in the morning before starting any work and I'm currently on the hunt for a good yoga studio here in Casablanca.
What do you love most about living in Morocco?
I would lie if I didn't say my mum's food, haha! Other than that, I love the cultural and linguistic diversity of Morocco, there aren't many countries like it!
How did you get on in the shoot? Do you have a favourite photograph from it?
I was so happy when I found out that the shoot was in Marrakech as it is the most magical city in Morocco! We shot at a beautiful Riad close to the old medina where I had the chance to meet Meg, the photographer. She was laid back and so much fun, which put me at ease straight away. I tried on the dress and loved the vibrant colour and how it felt on the skin which made me enjoy the shoot even more. My favourite photo is the one below where Meg is sneaking up behind the palm leaves trying to take a photo.
Do you have a favourite dress from the collection?
I love the Green Goddess dress. Emerald green and gold are two of my favourite colours to wear. In Morocco, they represent the lushness of Paradise and the spiritual wealth.
What does being part of the Sailaway crew mean to you?
It's awesome to be part of a brand that values being feminine, adventurous and trade-conscious all at the same time. It's great to know that the dress I'm wearing is not only beautiful and practical but it is also helping to build a sustainable model of trade.
What's you top travel destination and why?
I find myself going back to Stockholm, Sweden, every year. It's the complete opposite of Morocco, and for that I find it fascinating! I love the country's equalitarian ways, their lifestyle, and feminist values. I think we could learn a lot from them.
Where's next on your wanderlust wish list?
The Faroe islands
Final words to live by?
Take the time to do what makes your soul happy and don't forget to be kind along the way!