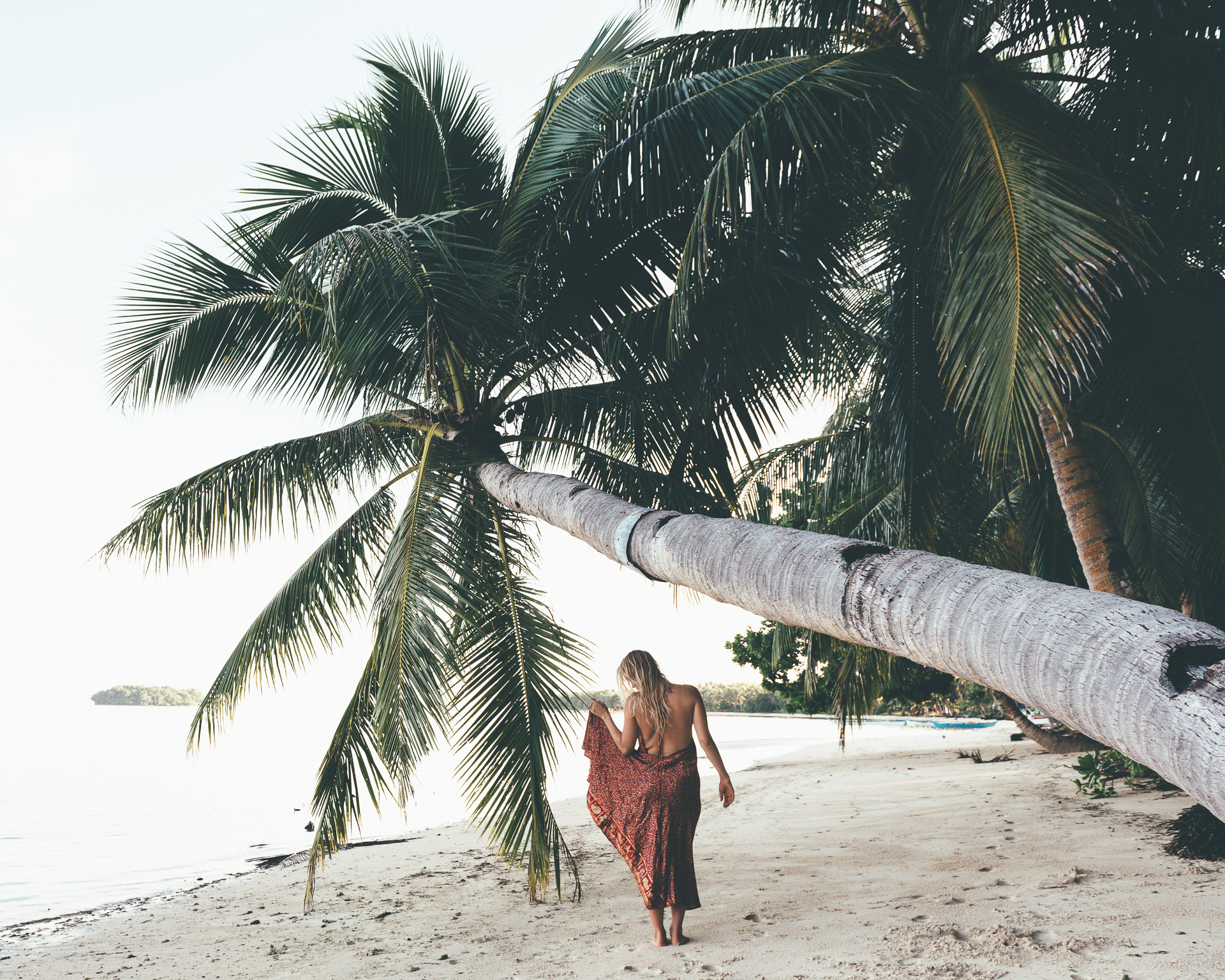 We're kicking off the 2018 #SailawayCrew series with an inspiring wise soul hailing from Seattle. Brooke holds a dear place in our hearts, and we're happy to have caught up with her over the festive period whilst she was living on the island of Siargao. Read on to find out more...
Tell us a little more about you. Where are you based and what do you do?
I am from a small island outside of Seattle called Vashon, but I'm currently based on Siargao, a small island in the Philippines! It is hard to say what I do because I am constantly changing things up and trying different things. At the moment I am doing web design and social media management but my passions definitely are in yoga and holistic healing practices. I am a trained yoga teacher and I am also spending this year diving deep into other healing modalities that connect the body, spirit and mind, so I am really excited for that.
Can you describe a typical day?
On Siargao every day is different. On an ideal day I wake up for a surf in the morning followed by some yoga at Lotus Shores, then I go to a local cafe and get some work done. My evenings consist usually of a sunset surf followed by a big yummy dinner with my boyfriend. It can change by the day though. I try to prioritise meditation and movement, so that when I go to do my work my head is in a good space.
The island of Siargao sure looks magical, what is your favourite thing about living there?
Siargao is by far one of the most beautiful places I have been. You really can't top the crystal clear water and white sand beaches. I also just really love the pace of life on the island. Everything is mellow, and everyone is always smiling. It is definitely not as perfect as it looks on social media though, as every place is. The rainy season is intense to say the least and it is very remote so prepare for a long journey if you plan to come to this island.
Do you have a favourite dress from the collection?
I love the dress that I have. It is perfect for traveling because its elegant (every girl needs to have that one glamorous outfit for their travels, no matter where they are going!) but then it is easy to scrunch up and throw in my suitcase, because it doesn't wrinkle.
What does being part of the Sailaway Crew mean to you?
It means being a part of a group of wonderful ladies who aren't afraid to go out of their comfort zone to experience all of the amazing things the world has to offer.
Where's your favourite destination you've travelled to so far and why?
This is such a tough question but I think it would have to be Sri Lanka, because of the memories I have there. I lived there for 5 months and while there were many ups and downs it was the most magical place I have ever been. Not to mention the incredibly delicious and healthy foods, the warm and welcoming people, the perfect long boarding waves, and the buddhist temples sprinkled throughout the palm tree covered hills.
Travelling has become a big priority in our lives now. Why do you choose to travel?
I choose to travel because it lights me up inside. Nothing makes me feel more inspired or connected to the world and to my fellow human beings. Whenever I travel it also solidifies the belief I have that when I step out of my comfort zone, as scary as it is, I am always rewarded.
Where is next on your wanderlust wish list?
Oh goodness, there are so many places I want to go. I think Morocco and Costa Rica are next on my list, but there are so many other places I want to visit as well.
What's your favourite album?
Vampire Weekend, Beach Boys, or Good As New by Vacationer all sit very high on my list. I like happy music that reminds me of being by the sea.
Who's your favourite artist?
It's a toss up between Matt Power, Hilary Painter, and Elizabeth Tragaskis!
Favourite documentary?
I really love Church of the Open Sky by Nathan Olfield, because it is absolutely beautiful and the stories of the people he highlights in the film are so inspiring. I also really love Patagonia's Fish People. I consider myself a fish person so it resonated with me quite a lot, also Kimi Werner is my absolute hero. If you don't know her, look her up!
What topics do you feel most strongly about?
Ocean Conservation (avoid single use plastic my friends), and holistic approaches to women's physical and mental health are both huge for me. Of course there are so many others, but these are the ones I feel the most strongly/passionately about at the moment. Obviously we need our planet to stay healthy in order for us to survive and surf, and we need our women healthy and empowered in order to help heal the pain that is going on on our planet at the moment. I really do believe our world could change for the better if we have more women running the show. I could go on and on but I'll leave it at that for now.
Words to live by?
"You don't have to get a job that makes others feel comfortable about what they perceive as your success. You don't have to explain what you plan to do with your life. You don't have to justify your education by demonstrating its financial rewards. You don't have to maintain an impeccable credit score. Anyone who expects you to do any of those things has no sense of history of economics or science or the arts." - Cheryl Strayed.
All images by Brooke's talented other half Matt Power. Brooke wears the Luna Dress in Ruby & Gold.